Jewelweed Impressions | Upsidedown Book | Upsidedown Mural | Availability | Artist
WIM: THE UPSIDEDOWN BOOK - A HISTORY & RATIONALE

Above: Dust jacket image unfolded with spine. Inverted view demonstrates the upside down feature of this book. © 2008
WIM: The Upsidedown Book, released on August 2nd 2008, reproduces drawings created in the early 1970's that were set aside to be published at a later time.
They belong to a transitional period in my life following my withdrawal from monastic life and a move to Minneapolis. For me the 1970's were filled with experimentation and unfinished projects like this book with its suite of pen and ink drawings. My new adventure included experimenting with computer programming, working as a humanist consultant to the Tetra Corporation and exploring new worlds of form with drawings, paintings and new media.
Invitation drawing.
Imaging the Unseen
West Lake Gallery
Minneapolis, MN, USA, 1970

This image appears on one of the dedication pages in WIM: The Upsidedown Book. This 1970 announcement, a letterpress imprint from a line cut zinc plate, "speaks" a bit of its own fantasy.

© 2008
The upside down drawings belong to the series of new works I exhibited at the Westlake Gallery in Minneapolis in 1972 as "Images of the Unseen". Don Morrison's review, in the Minneapolis Star, noted that "These works are light and happy in spirit; they have the childlike exuberance seen in Miro". Now, well over 30 years later, these drawings continue to exhibit a visual feast that Morrison observed lets us share in the artist's imagination "while freeing our own to wander as it will". (cllick for Morrison's review)
Dedicated to Fred Rogers who noted that "the child is in me still, but sometimes not so still..." these drawings were made to appeal to children of all ages including those of us in our golden years.
Most of the images were created in the late 1960's and early 1970's during the time when Fred Rogers launched "Mister Rogers Neighborhood" on public television.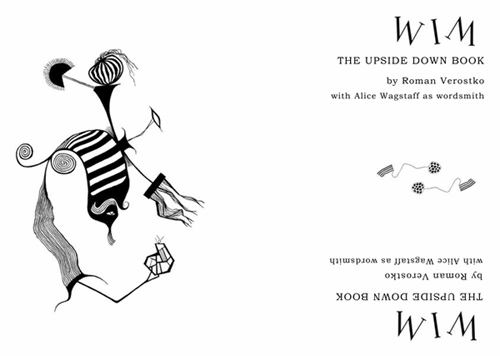 Above: One of two title pages in the upsidedown book. The original pen & ink drawing dates from 1969. © 2008



MUSICAL DELIGHTS, SPCO WILD: a playful whim. This drawing serves as a 2 page centerpiece and book cover for the Upsidedown Book. The original drawing is located in the executive offices of the Saint Paul Chamber Orchestra in the Hamm Building (St. Paul, Minnesota, USA). Dated 1969, it lay hidden in a studio cabinet where my wife found it over 30 years later. We mounted and gifted it to the Saint Paul Chamber Orchestra as our memory of over 40 years of the musical delight they gave us.
NOTES ON TECHNIQUES & INTENTIONS

These works grew from automatic drawing techniques practiced by late dada and early surrealists. In my earlier expressionist drawings of the 1960's I experimented with drawing at the borders of consciousness, a deliberately "un-deliberate" method of drawing somewhat like the semi-conscious doodling one might do while talking on the phone. My notebooks during this period were filled with such doodles. By the early 1970's my techniques working on the borderline of consciousness led to consciously tweaking the form here or there. This procedure unfolds visual form at the borders of "conscious-unconscious" drawing.
Detail of doodles
ca. 1966.


From a personal notebook.
During the 1960's an occasional semi-conscious doodle yielded surprising and unexpected forms. . In the early 70's, by coupling these techniques with a disciplined hand, I learned how to "unfold" fascinating visual surprises. Before long my studio walls were covered with a new world of forms.
Imaging the Unseen, pen & ink drawing.

From an exhibition poster image, 1973
Stephen Joy's trajectory gallery
London, Ontario.

© 2008
In the process I developed a personal method of merging conscious editing refinements with unconscious drawing. The image above, from a 1973 exhibition poster, grew out of such a process. Contradictions in my drawing experience were abundant: I struggled with a studio presence to be deliberately un-deliberate, rationally irrational, and consciously unconscious."

©

Double page spread in the Upsidedown Book.

© 2008

Visual forms created with these procedures do not refer to the 3 dimensional space of our everyday world. Rather they inhabit a visual space that first generation abstractionists referred to as a cosmic space, a space without gravity, a space with no "up" and no "down", a space where upside down is also right side up.

The idea for the upside down children's book grew from this feature of no "up" and no "down". Thus a mother, sharing the book with the child, could have the child view the book from either position. The natural consequence was to include words that could be read in either direction. And, in the spirit of the drawings, the words would be invitations to free imaginative play.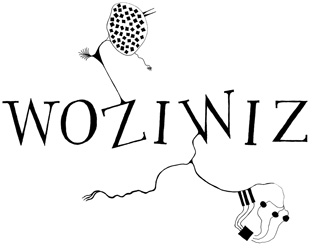 © 2008
Most images in the book are complemented with upsidedown words that were drawn by hand with graphic caprice in the same spirit as the whimsical drawings. Above we see one of twenty-one word pages from one direction and below we see the same page from the opposite direction. Both views are "right side up".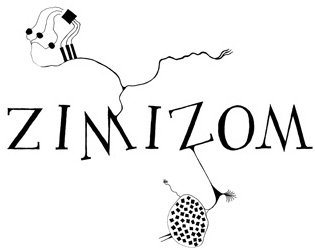 © 2008
Following the Dada practice of employing arbitrary sounds the words have no rational meanings. My wife, Alice Wagstaff, with her love for word sounds took on the job of "wordsmith" to craft the upside down words. With no up and no down "WOZIWIZ" is also properly read as "ZIMIZOM". The upside down is also the right side up. The word pages participate in the ambiguous orientation permeating this book.
This ambiguity characterizes the "decisively indecisive" spirit and life style in my studio. Often I find that I want it shown this way but, on the other hand, perhaps, it should be shown the other way. The upside down book invites us to have it both ways.
See also: The Upsidedown Mural
© 2008, RV, all rights reserved
Jewelweed Impressions | Upsidedown Book | Upsidedown Mural | Availability | Artist